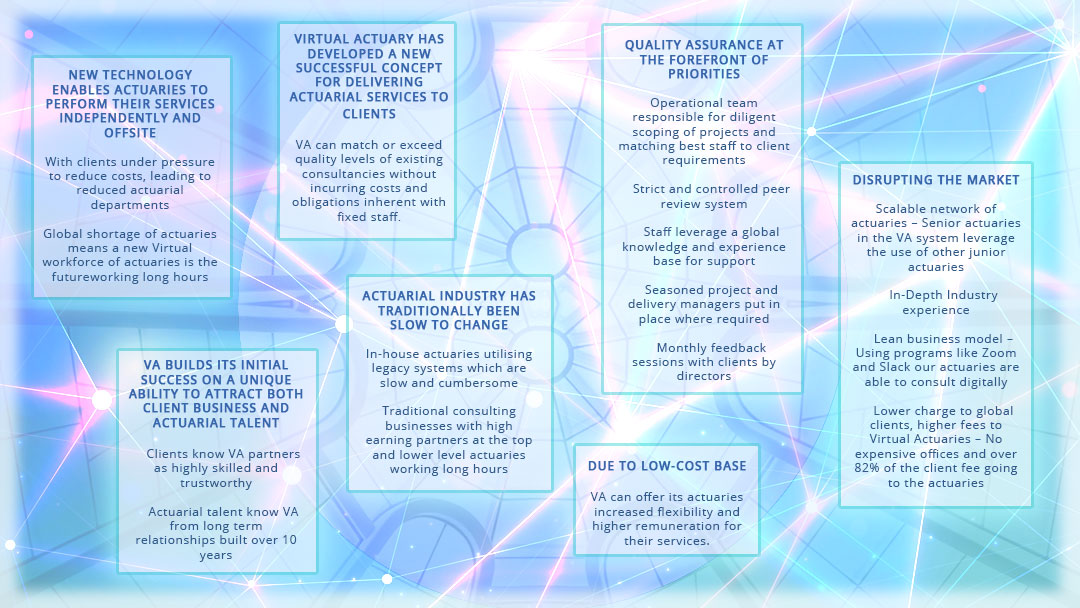 Pre-emtive
We believe that one can pre-empt
a future outcome by utilising
a system of proven techniques
and a team of experts who specialise
in the science of uncertainty.
Precise
We exact, accurate, correct,
error-free, specific, detailed,
unambiguous, definitive, particular,
rigorous, strict, and methodical.
Actuarial science is any and
all of the above.
Practical
We aim to provide realistic solutions
to complex problems with a long
term forward look.  
LET US BE YOUR ACTUARIAL SERVICE PARTNERS
BECAUSE WE STARTED THIS BUSINESS
SO YOU COULD BE SUCCESSFUL IN YOURS
Services
We are Specialists of Actuarial, Insurance & Risk, Investments and Advanced Analytics services.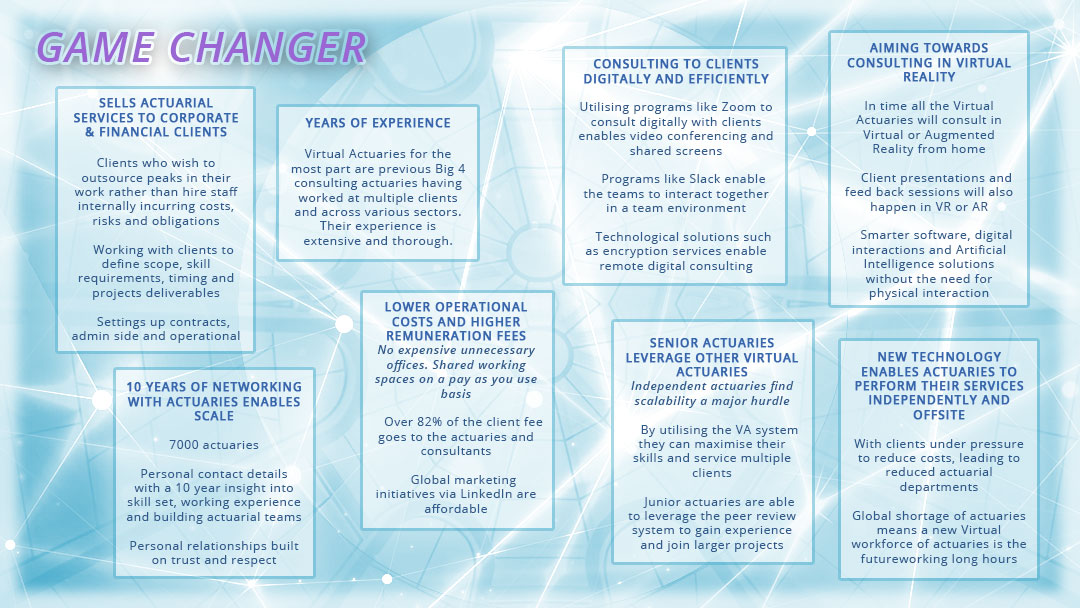 LIFE INSURANCE
Individual and Group Life
We provide a full and comprehensive service offering covering among other things:
Product Development:
Product Development of new innovative products.
Product knowledge for the following countries: Botswana, Ghana, Kenya, Lesotho, Malawi, Mauritius, Mozambique, Namibia, Nigeria, Swaziland, Tanzania, Zambia and South Africa
Products include: Group and Individual for Life and Funeral cover, Credit Life cover, Pension Fund investment, Disability, PHI, Dread Disease & other riders, Micro insurance and mobile solutions providers, health insurance.
Financial Reporting:
Valuations including statutory valuation responsibility for life assurer, reinsurer, friendly society, cell captive or start-up insurers
SAM / Solvency II implementation and review
Solvency Capital Requirement
Internal model
Own Risk Solvency Assessment
Embedded value calculations
IFRS17 formulation, preparation and implementation
Reinsurance:
Advising and implementing reinsurance arrangements to enable efficient capital management
Risk and capital management:
Asset liability modelling, liquidity and market risk management
Economic Capital Modelling and Risk Capital Allocation and optimisation
Software:
Support in using and managing actuarial cash flow modelling systems (Prophet, MoSes and Mo.net).
NON-LIFE GENERAL INSURANCE
Reserving, Capital modelling, Pricing, Risk management and Solvency II
We provide a full and comprehensive service offering covering among other things:
Traditional triangulation reserving models and exposure based methods when claims experience is unreliable or inappropriate
Calculation of Technical Provisions for Solvency II and SAM
Implementation of reserving and technical provision processes in a range of platforms
Stochastic reserving methods including ultimate one-year reserve risk views
Assessment of the impact of IFRS 17
Capital modelling
Stochastic and other non-stochastic capital modelling techniques
Calibration of premium and reserve risk models for Solvency II and SAM
Implementation of capital models in a range of platforms
Methods used in the market-leading catastrophe models
Methods used by proprietary Economic Scenario Generators (ESGs)
Capital allocation methods
PPO modelling methods
Optimization of outward reinsurance
Pricing
Traditional personal and or commercial lines and London Market pricing techniques
Stochastic pricing methods for pricing reinsurance or complex commercial risks
Creation of pricing analytics for underwriters and management
Creation of connected pricing models online or with full database support
Optimisation methods for pricing and portfolio re-balancing
Application of machine learning techniques for pricing and portfolio segmentation
Risk management and Solvency II / SAM
Design and implementation of capital model validation
Standard formula calculations and commonly accepted approaches
Solvency II legislation and Internal Model Application Process requirements
Lloyd's and PRA reporting requirements such as Lloyd's Capital Returns and Quantitative Reporting Templates
Construction of Solvency II and SAM documents, such as policies, frameworks, logs or reports
Effective communication of risk information from capital models or other risk indicators to Risk Committees and Boards
BANKING
The Banking team is almost ready to go to market
We'll be launching this team as part of Virtual Actuary very soon hopefully.
INVESTMENTS
Below is a list of services we can offer on the investment side:
We have access to a variety of top actuarial investment experts and juniors, and projects we have been involved in have been far from standard; involving inter alia big data sets, unconventional assets and locum positions. We have become adept at doing the weird, messy and difficult jobs which nobody else wants.
Locums
Providing experts to temporarily occupy empty positions in corporates (e.g. whilst hiring).
If needed, the locum may document the processes and people involved in the position, for easy transition, and permanent storage of intellectual capital.
Unit Trusts:
Investigating Asset Liability Mismatches
Calculating per client adjustments to make to correctly compensate for historical transactional errors, and unit pricing errors.  We are experienced at working with big datasets.
Setting fees, setting up funds[1]
Managing co-naming / co-branding / white labelled agreements
Engaging FSCA regarding the regulatory environment
Platform management & improvement[2]
Assessing & improving overall fund offering[3]
Fee Disclosures:
Disclosure: Calculating TERs and transitions costs
Market Research:
For new and existing investment fields
Setting up capabilities for new investment fields
Liability Driven Investments
Market Research
Proposing, building and Reviewing models
Marketing & sales advice
Alternative Investments
Future Studies
Peer reviews
Complex calculations
Transition Management
[1] FSCA actions, administrators, determining launch TER, … [2] For example, IT interface, fund fact sheets, member queries, graphing and other displays, etc [3] For example, the Mandate
PENSIONS
We advise trustees and companies on the management of their pension schemes and more
We provide a full and comprehensive service offering covering among other things:
Pension Fund valuations and calculations
Comprehensive statutory valuation services, with sign off from our specialist valuator
Individual member calculations on retirement/early retirement, withdrawal, death, disability or any other quotation requested
Reserve account build-ups, liability values or investment return calculations for the purposes of a fund's financial statements
Accounting Valuations for the purposes of companies' financial statements
Valuations of Defined Benefit Pension Funds, Post-Retirement Healthcare Benefits, Long Service Awards, Retirement Gratuities, Severance Benefits and any other Defined Employee Benefits
Valuations under the IAS 19, FAS 158/ASC 715 and GRAP/IPSAS 25 accounting standards
Knowledge of the environments of South Africa, Namibia, Nigeria, Malawi, Swaziland and other African countries
Impact assessment of benefit changes on companies' balance sheets.
Advice on and impact of benefit structures changes
Defined Benefit to Defined Contribution conversions
Contribution rate changes for Defined Contribution funds
Cost/Benefit analysis on de-risking or insuring benefits
WIDER FIELDS, TELCO AND ADVANCED ANALYTICS
Advanced Analytics as an X factor
At Virtual Actuary, our advanced data analytics team takes your data security extremely seriously. We use end to end encryption, secure and POPIA-compliant storage facilities; which have strict, legally enforceable privacy policies as well as secure data management policies which are resistant to social engineering. Your data will be so safe, you might want to keep it with us.
Our philosophy with advanced data analytics is that the results must affect your bottom line. Vanity metrics and dash boards which do not engage with or enhance business decision making are, at best, a waste of your time and money. We deliver products that integrate into your business seamlessly; providing insights which positively affect either growth, revenue and/or savings. We strive for results that will become a standard part of your operations and ongoing quest for business excellence.
A major part of advanced data analytics and artificial intelligence adoption within your business involves risk. Often, the solutions we provide have never been done before and this is the nature of innovation. As such, our risk management strategy involves high-frequency feedback (typically every week) as well as key data driven metrics which quantify the potential of the project to be a success (from a return on investment perspective) at every stage of development.
Our team has an eclectic skill set and has experience from a wide range of industries. From cybersecurity, marketing and advertising, engineering and software development to private equity and strategy consulting. We offer a mature, fully-featured, and extremely technically skilled service. We have developed algorithms that optimise advertising spend and customer lead acquisition, we have engineered automatic pricing systems, we can infer proprietary information using only publicly available data and have expertise in automatic fraud detection methods.
Our goal is to assist you with your journey through the 21st century's industrial revolution and to partner with you in delivering world-class value to your customers and shareholders.
We are proud to design and implement financially and ethically responsible artificial intelligence products.
HEALTHCARE
Healthcare
We would be delighted to discuss any of following:
Estimation of IBNR (Incurred but not reported) Claim Liabilities, loss ratio and claims utilisation studies, reserving and modelling
Assisting, refining and developing pricing methodology and best practices and assessing impact studies, processes for in-force business including experience analysis
Various experience formulas and applications including determining appropriate stop loss rates, demographic and claims experience
Forecasting of future premium claims based on various deductibles, environmental changes, regulatory changes, new or generic drug availability, new available procedures as well as risk adjustment enhancements
Creating of various models taking into account trends, payment levels and selection issues, advice on amendments to regulations and legislation
Post- Retirement Medical Aid Valuations: Performing entire valuations process from start to finish, including data requests, calculations, checking and drafting of the valuation report
Working with underwriters and various business units to apply models specific to groups
Working with business units to determine where new business rate levels should be set, and which renewal increases roll over from existing arrangements
Development of a range of risk management and managed care programs to drive claim cost down and improve healthcare outcomes for patients
Redesigning and costing of service provider tariffs or reimbursement models
Developing dynamic activity-based costing and demand models
Interacting on all Health Reinsurance matters including risk sharing arrangements
OUR TEAM OF GLOBAL ACTUARIES ARE READY
TO BECOME YOUR ACTUARIAL RESOURCE

Our Team

Our team of experts offers a comprehensive range of actuarial services founded on a depth of experience acquired locally and globally.

    Johan Vrolijk
    Co-CEO
"I do actuarial stuff."

    Jacques Naude
    Principal Data Scientist
"I'll help you get the data to make sense."

   Monique Fleischer
   Non-Life General Insurance
   Actuary – Manager
"I think being an actuary is the best job in the world!"

   Andrew Sharpe
  Global head of Life,
  Reinsurance and ERM
"Let's really talk about Enterprise Risk, Solvency and other fun related topics."

  Jayesh Bhana
  Country Lead – Australia 
"The team is well positioned to cater for various projects across your business."

   Rob Baker
   Overseeing Investment
   Team
"A seasoned Investment proffesional who enjoys the challenge in everything he does."

   Jessica Blignaut
   Quants and Risk Analyst
"Each assignment will impact so many people's life, how amazing is that!"

   Claude du Plessis
   Life and Reinsurance
   Manager and Mentor
"Actuaries consulting virtually makes perfect sense to me."

   Marinda Badenhorst
   Employee Benefits
   Oversight Actuary
"Achieving a structured solution which makes company and client happy, is the goal."
AN AWARD WINNING CONSULTANCY

In The News
Here are some stories featuring Virtual Actuary in the news.
WE AIM TO PROVIDE REALISTIC
SOLUTIONS TO COMPLEX PROBLEMS
WITH A LONG TERM FORWARD LOOK
Video
Here are some videos featuring Virtual Actuary in the news.
The role of the actuary in Insurtech and what it's like to be in the exclusive actuaries club.
Business fundamentals focusing on client centric principles.
.
Adi Kaimowitz on business and inspirational experiences – Interview Series NaviStar Legal
.
Adi Kaimowitz – In this interview with Jo Rogers he talks about his personal inspirations.
Entrepreneur lessons. How to successfully break into a large market.
.
What does it take to be a successful business person.
.
New World business trends for 2020.
Building a quality business during tricky times. Tips from Investor of the Year.
.
The corporate world post Covid-19 and the fundamentals of innovation.
.
New World – New Business Fundamentals.
The Organized Collaborative business model and You-as-a-Brand World.
.
Adi Kaimowitz Featured Speaker at Bitcoin Nights.
.
Building Virtual Actuary, How To Survive Digital Disruption Adi Kaimowitz Full interview.
StartUp Grind Johannesburg hosts Adi Kaimowitz.
.
The Virtual Actuary story.
.
Virtual Actuary in collaboration with INSETA – Insurance Sector Education and Training Authority.
Virtual Actuary presentation on Building an Empire at the South African STEM conference 2019.
.
Virtual Actuary webinar for the CFA Society South Africa.
.
Virtual Actuary FacebookLive interview on caiFM.
Virtual Actuary changes the corporate business model – The Organised Collaborative, part 1.
.
Virtual Actuary Cover Insurtech Conference.
.
Insurtech panel discussion Hartford Insurtech Hub USA January 2019.
Hartford Insurtech January 2019 Talk – Hartford Connecticut USA.
.
Sramana Mitra's 1Mby1M Roundtable with Adi Kaimowitz from Virtual Actuary.
.
IF YOU CONSIDER YOURSELF A VIRTUAL ACTUARY
WE WOULD BE DELIGHTED TO HEAR FROM YOU
Contact Us
Phone
+27 (0) 83 570 2272
Email
Please use the form below.