Banking Service Offering
End-to-end banking services including software solutions team
VIRTUAL ACTUARY BANKING SERVICES
Virtual Actuary is excited to share our banking service offering with you.

Virtual Actuary is an established and growing, level 2 BEE, actuarial services and software development business in South Africa, with a strong global footprint. Our services focused on the insurance market over the first 4 years of the business. While we took on projects in the banking space due to client demand, we have not actively marketed such services to date. Virtual Actuary has strong knowledge and experience in the banking sector available in-house. We are now officially launching and marketing our banking services in the market.
Virtual Actuary was founded by an ex-recruiter of actuaries and individuals that held management positions at the big-4 consulting firms in the past. Starting from a clean slate, we engineered our business with superior incentives, motivation and productivity of our staff. This ultimately resulted in revolutionary value creation for our clients. This is evident in us scaling to servicing ~100 clients with ~65 actuarial, software and banking consultants in-house and currently at ~R80m in revenue per annum over a period of 4.5 years. The fees for our services are at approximately half the rates of the market due to the design of our business and lower margins in our fees. We are proud to say that our customer references and satisfaction is excellent.
We have prepared a short slide deck to introduce you to our business and some of our people. We would love to talk to you about your business and how we can support you in the execution of your vision.
Hands-On Banking
How we can support you on your journey
Virtual Actuary brings hands-on banking experience to the table.
We are comfortable to engage with you around anything actuarial, finance and technology related in the banking space.
Our engagement approach can be flexible and is structured according to client preference and efficiency.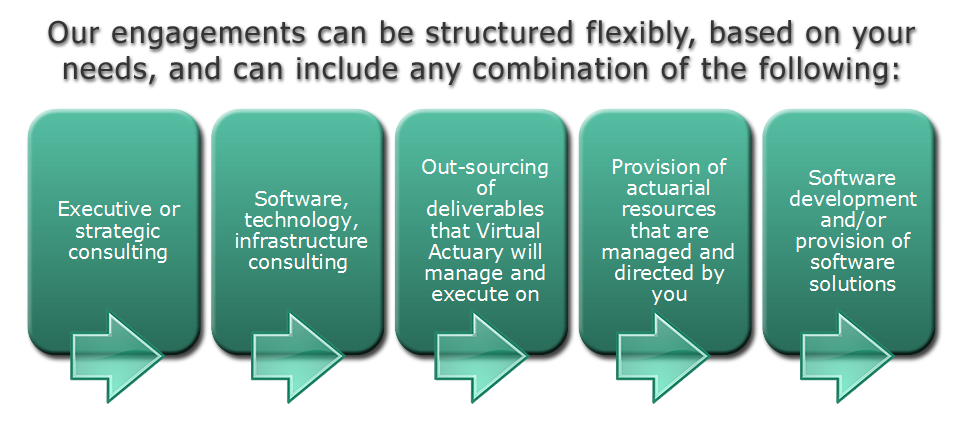 Banking Services

We cover the main areas relevant to the banking industry
Credit Originations
Build credit origination models to assess whether your current or prospective customers are within your risk appetite
Perform automated affordability assessments on your prospective customers
Risk Based Pricing
Construct pricing models based on the risks inherent to your current and prospective customers
Know your competitors to ensure your offering remains competitive
Customer Value Management
Build propensity models which efficiently gathers relevant customer data in order to understand your customers preferences
Make use of these models to determine which products and offerings would add the most value to your customers
Credit Portfolio Management
Construct scorecards to continuously evaluate the quality of the credit book
Make use of these scorecards to identify:
Customers with an increase in risk
Concentration risk
Industry risk
Develop strategies to mitigate possible losses in your portfolio
Collections
Develop the handshake between your portfolio management strategies and collections division
Construct risk rating models to assess the probability of default of your customers
Make use of risk rating models to develop collection strategies for each risk cohort
Credit Impairment Models
Develop, review or improve your credit impairment models namely PD, EAD, LGD, FLI and ECL
Make use of Virtual Actuary's IFRS9 experts to provide advice and guidance
EXAMPLES OF BANKING PROJECTS
As we roll out our banking services to the market, we look forward to expanding the banking services on our Company CV.
Below are examples of projects performed on client demand. Virtual Actuary's staff have significant experience in the banking sector, prior to joining Virtual Actuary, including a vast network of actuaries to recruit from to match capacity to client demand.
Training around any banking concept

End-to-end implementation of credit impairment models

Auditing of IFRS9 impairment models

Development of bespoke IFRS9 software solutions

Development and calibration of credit origination scorecards

Development, automation and monitoring of propensity models

Customer value enhancement and retention strategies

Customer profitability modelling

Development of behavioural scorecards

Constructing and implementing of credit portfolio management strategies

Constructing risk rating models and collection strategies

Fraud assessment and prediction

Financial modelling and forecasting

Construct and automate regulatory reporting

Process automation and modernisation
WE ARE WELL QUALIFIED
Our team has a rich background in banking products and pricing, banking process, data analyses, provision and capital modelling as well as the skills to transform the actuarial role into the strategic advantage
Flexible capacity means you can rely on the team to be there when needed

Virtual Actuary prides itself on always putting the client first in whatever we do

Our team is proficient in multiple coding languages including SAS, SQL, Python, R and VBA

We have built bespoke data process solutions to improve the way in which data is obtained from business up to the point that it is used for calculations

Our skill set allows us to automate processes and improve efficiency

BUSINESS MODELLING SOFTWARE
Key Features
The software is simple and efficient
It delivers effective implementations…through utilising all available digital tools
One-click installations without admin-level IT

Easy to map input data from SAS, SQL or Excel

Low cost with minimal dependence on consultants

Integrated output and auditable calculation trail

Multiple scenario runs and impact assessments

Fully automated calculation engine

In-house teams can run software and analyse results

Business process validation as high priority

Can deal with big datasets and intricate relationships

Highly reusable and compatible with all BI platforms


Co-founded by top actuarial recruiter with vast global network
A global network of actuaries allows scaling capacity according to growing client base and demand

Low fixed costs, rewards geared towards actuaries
Attraction of top actuarial talent, all actuaries being invested in their clients and projects, revolutionary
value-add for clients

Working environment engineered for productivity and innovation
Leveraging technology and cutting out unnecessary red-tape allows actuarial productivity to flourish

Powerful in-house software development teams
For sale as SAAS, but also developed and designed to empower the Virtual Actuaries
Revolutionary Business Model
Offering exceptional value to clients
Virtual Actuary was launched in 2017 and has grown to ~65 staff headcount and having serviced more than 200 separate clients (locally and internationally) over the last 5 years.
Our exceptional growth is a testament to the success of our business model and our ability to deliver quality services to our clients.
Along with our digital nature, central to the success of our business too is our relentless and uncompromising focus on delivering exceptional value to our clients and staff.